Today at lunch I went to one of my fave lunch time spots, yep Carolina Pottery.  I actually only set out to buy my big vase, you may remember this post, and to get an NC State blanket for the new car.  I decided I had put off my new vase long enough and Matt and I wanted a blanket to keep in the car for tailgating.  Not that I think we will do a lot of sitting in the back but if we do we'd like it to not get scratched up.
Anyway, I got my vase and while I was looking around I noticed a few candle sticks.  For $14.99 I figured this was a good deal and would get me on my way to getting the fireplace finished.  So I added those to my cart.  Then I had to walk past all of the Halloween stuff on my way to the NC State stuff.  This made me think I might need something for the door.  I found a cute fall wreath so that also got added to the cart.  The only thing that didn't get added to my cart was our blanket.  For some reason they didn't have any.  They had tons of random stuff so I was kind of surprised they didn't have a blanket.  Oh well.  We still have another week or so before the car is here.
Speaking of the car – it is on a boat!
Now I'm sure you are dying to see all my goodies.  Well you are in luck. 😉
I'm not sure about the pics in the middle but I'm just going to leave it for now.  Also I think the kitty condo is going to move upstairs.  Julio rarely sits in so I think that might be a better place for it.
Don't you love the vase?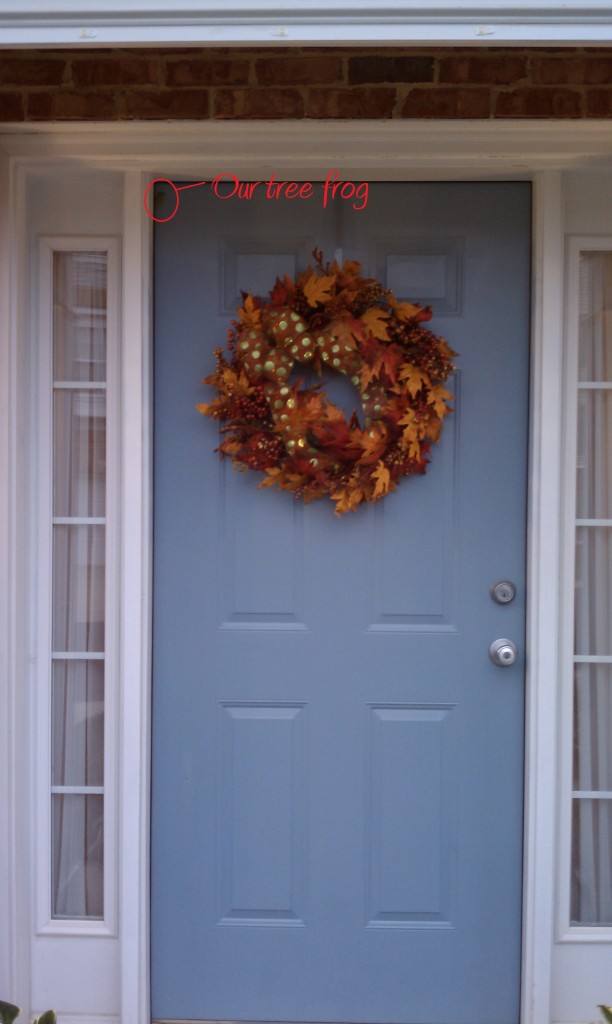 From a distance.  Notice my little friend is alive and well.  🙂
A close up.  You can't really tell but the ribbon is orange with green dots.
~k