Okay so I am FINALLY doing my review on the IT Cosmetics Your Skin But Better CC Cream.  I've had this product for a few weeks now and I must say, I really like it.  Do I love it?  No.  Would I repurchase?  I'm not sure.
Let's review it.  First off it has a nice thick consistency but, to me, it doesn't feel heavy on the skin.  I feel like it "melts" into my so it doesn't feel like I have foundation sitting like the Lumi does.  Next, the box says it is medium to full coverage.  Eh, I think it's more of a light to medium coverage.  Now maybe this is purely based on application.  I tend to buff my foundation in pretty well.  I don't really care to have foundation sitting on the skin.  And well, I'm not great at building coverage so…yeah.  The foundation has a bit of a citrus scent but I don't find I can smell it once it's on my skin.  Apparently, the scent comes from the snail exact?  That's just something I found online.
One thing I really like about this foundation is the finish.  Since I have oily skin, this gives me a nice velvety finish.  I don't find it to be matte but it's also not dewy.  Even by the end of the day, I don't really feel too shiney.  I also feel like it has pretty good staying power.  I normally set it with my Rimmel Stay Matte Pressed Powder.  I should add, I don't think the powder really helps to keep me "matte" but I do like the powder.
Like I said, I've worn this for a few weeks now and even after being out in the hot this weekend and last weekend, I felt like my makeup held up pretty well.  Saturday Matt and I went to the NC State game and when we got home I took a pic of my makeup.  It lasted through fairly hot temps for several hours.
Okay, I guess I should discuss why I don't love it and why I might not repurchase.  While I love the finish, honestly, I don't feel like there is anything so super special about this foundation.  It has a nice finish and pretty good coverage.  It has pretty okay staying power, but for the money I feel like there are other things out there that should work just as well right?  Overall, I'm not completely blown away by it.  (My favorite foundation of all time was from Estee Lauder but it has since been discontinued for the Double Wear – which I am also not a huge fan of but might revisit at some point. )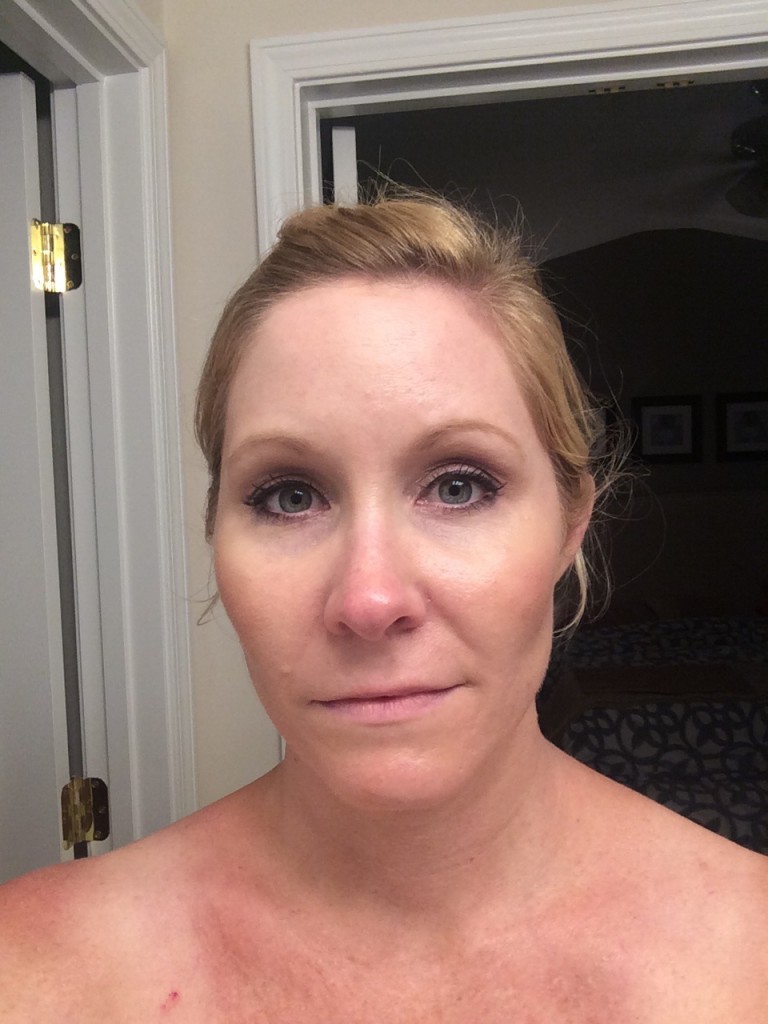 This is after the game on Saturday. I'd had makeup on all day plus 4+ hours of being outside in the heat and sweating.
My next review will be a review of some new fiber mascara!  :O